Twenty years of L3S – the research center invited companions, sponsors, cooperation partners, and staff to the event venue "Könglicher Pferdestall" of Leibniz Universität Hannover on 5 July 2022 to celebrate the anniversary. Although the research institute was founded in 2001, the celebration was postponed to this summer due to the corona pandemic. Prof. Dr. Wolfgang Nejdl, Executive Director of the L3S, welcomed numerous guests to a varied celebratory programme with greetings from Björn Thümler, Lower Saxony Minister for Science and Culture, Stefan Muhle, State Secretary for Digitisation at the Lower Saxony Ministry of Economics, and Dr. Christoph Strutz, Vice President of Leibniz Universität Hannover and former Managing Director of the L3S.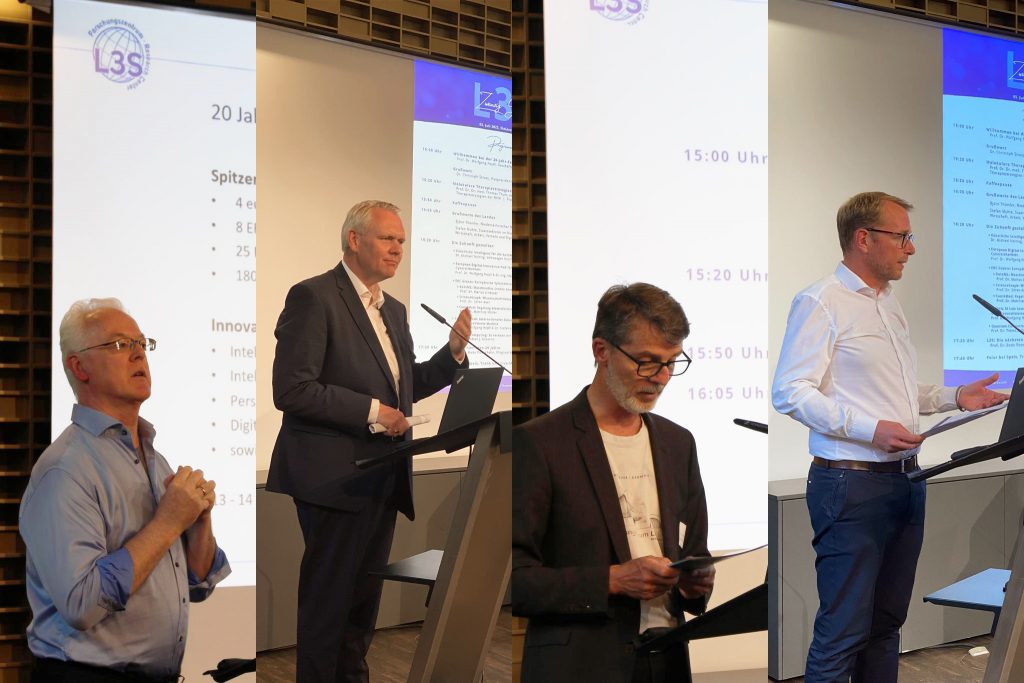 In his welcoming speech, Nejdl showed that at L3S top European research is being conducted. Eight ERC grants have been awarded to L3S members in the last ten years, and four research training groups are based at L3S. In interdisciplinary collaborations on intelligent production, mobility, medicine, and education, the L3S is also preparing the ground for future innovations.
In keeping with one of the L3S focus topics, Prof. Dr. Dr. Thomas Thum, head of Fraunhofer ITEM and director of the Institute for Molecular and Translational Therapy Strategies at the MHH, addressed the role of artificial intelligence in medicine, especially for molecular therapy strategies, in his guest lecture. He emphasized the importance of collaboration with the L3S as a huge opportunity for medical research.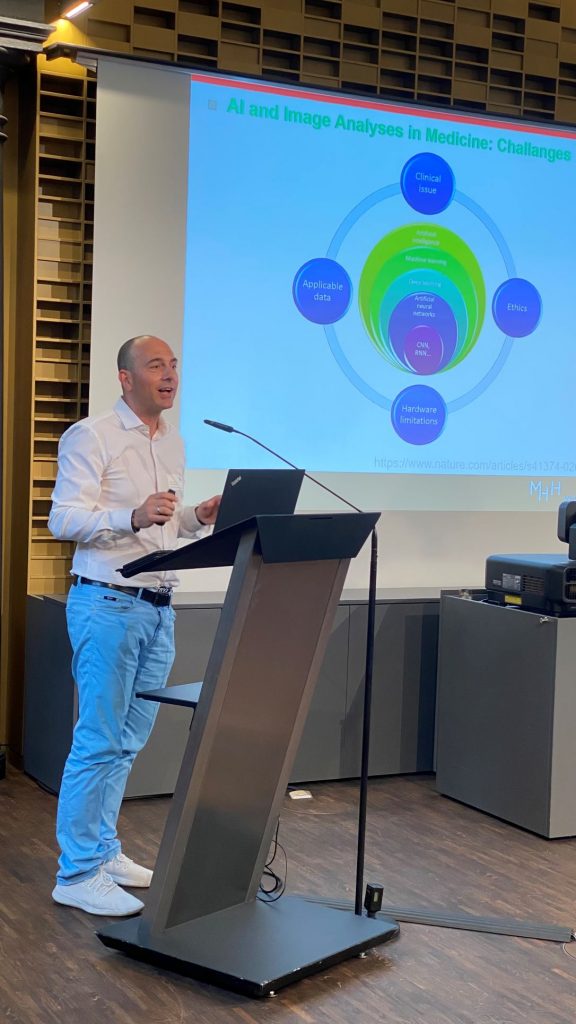 Afterwards, short presentations focused on current L3S projects – from research to transfer into practice. Dr. Michael Nolting from Volkswagen Commercial Vehicles, who has been working successfully with the L3S in intelligent mobility for a long time, began with four joint projects and eight joint doctoral students. Prof. Dr. Wolfgang Nejdl and Dr.-Ing. Marc-André Dittrich from the Institute of Manufacturing Engineering and Machine Tools (IFW) presented the Digital Innovation Hub for AI and Cybersecurity (DIH4AISec) coordinated at the L3S. It will soon become a European Digital Innovation Hub funded with two million euros annually for an initial three years. The DIH4AISec supports small and medium-sized enterprises in production, mobility, and crafts, as well as the public sector in Lower Saxony in the application and development of artificial intelligence and cyber security technologies.
Three L3S members then presented their current ERC grants, which the EU awards to outstanding scientists: Prof. Dr. Marius Lindauer (Automated Machine Learning), Prof. Dr. Sören Auer (ScienceGraph: Scientific Publishing of the Future), and Prof. Dr. Matthias Müller (Cont4Med – Regulation of Biomedical Systems). Another example of top international research is the Leibniz AI Laboratory for Artificial Intelligence and Personalised Medicine, one of three International Future Laboratories for AI, funded by the BMBF with 5 million euros. At the Leibniz AI Lab, scientists from LUH and MHH work together with researchers from all over the world on intelligent, reliable, and responsible methods for personalized medicine. Finally, Prof. Dr. Tobias J. Osborne looked to the future: he is doing research in quantum computing, which will also have a considerable economic impact due to its enormous computing power. Quantum computing will allow it to exploit previously inaccessible optimization potential, for example, in industry.
In his closing remarks, Prof. Dr. Bodo Rosenhahn, a member of the L3S Board of Directors, thanked all who have accompanied and supported the L3S over the years, especially the ministries involved and the presidiums of Leibniz Universität Hannover and TU Braunschweig. Rosenhahn also thanked the members of the scientific advisory board in particular. Their critical support has contributed to the L3S questioning itself and developing further.
The task of the L3S, he said, is to ensure that artificial intelligence, which many people see either as a bringer of salvation or the devil's stuff, is properly grounded, that we learn what is possible with the tool of artificial intelligence and use it sensibly and for relevant topics. Rosenhahn stressed the importance of cooperation between many disciplines and communication with the outside world to develop responsible, intelligent systems that contribute to society's good. This, he said, is the inherent goal of the L3S. Therefore, a framework is needed that ensures trustful cooperation and in which scientists can develop the research questions of the future.
After the ceremony, Wolfgang Nejdl invited all the guests to continue celebrating with food, drinks, and live music.