Spotlight – Sophie is curious!
Five questions for four doctoral students: Jonas Wallat
Jonas, what are you working on at the moment?
My main research interests are interpretability, model analysis and NLP. In the Leibniz AI Lab, I am currently applying transformer language models to genetic sequences. In this work, I am trying to improve the model's understanding of functional and structural gene properties by incorporating domain knowledge into the training process.
What do you find particularly exciting about your work?
The best thing about working in the Leibniz AI Lab is the international team and the opportunity to apply our research to real-world problems.
What motivated you to do a doctorate?
My main motivation for doing a PhD was that I could delve into a topic, become an expert in that field and gain new insights.
What do you like to do in your free time?
I like to cycle around the city, do sports and play the piano.
What is your favourite place in Hanover?
Welfengarten and Georgengarten – the parks around the university.
The questions were asked by Sophie Boneß.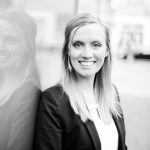 Sophie Boneß is a communications staff member. Among other things, she is in charge of the Leibniz AI Lab.