Without data, nothing works in the expansion of intelligent production. In order to exploit this potential, data must be exchanged throughout the entire product development process. This means: even beyond the boundaries of the company. The danger that the data could fall into the wrong hands and cause economic damage in the process is in many cases a deterrent for companies and a brake on the path to intelligent production.
The exchange of data must therefore become secure. In addition, companies in a value chain or even within an industry need to develop a common understanding of data so that it can be exchanged and used without frictional loss. But how can data sovereignty and confidentiality be maintained in order to work together in a spirit of trust? Since 2016, the non-profit International Data Spaces Association (IDSA) has been developing a reference architecture for a secure data space with its members from business and science. In the future, companies should be able to exchange their data there and make it mutually usable. The goal: a de facto standard that companies can use across industries and countries. Globally applicable rules and guidelines are intended to ensure data sovereignty and thus provide the answer to the question: Who is allowed to do what with which data in which context?
Currently, the IDSA has more than 100 members from 20 countries. These include software and system providers, large medium-sized companies such as Boehringer, Rittal, SICK or Schaeffler, groups such as Allianz, Bosch, IBM or Volkswagen, and research institutes. In thematic working groups, the IDS Communities, the members drive the application of the IDS reference architecture and the establishment of the IDS standard, for example for industry, logistics or medicine. With IDS_ready, the new certificate for trusted data exchange, the IDS concept is now ready for commercial use. Companies that benefit from the key architecture for sovereign data exchange and want to participate in value-added processes can be certified. Companies outside the association can also use the IDS architecture.
For the economy, the new global standard for data transfer, data security and data sovereignty offers completely new possibilities. How this potential can be transferred into business models is shown by cross-company application examples of IDSA member companies on the association's website.
Support for institutions in Lower Saxony
The new IDSA Competence Centre Lower Saxony, which was founded in June 2019 at the Leibniz Joint Lab Data Science & Open Knowledge of L3S and TIB, supports companies and other institutions from Lower Saxony in questions concerning data transfer. In the future, best practices are to be exchanged, concrete use cases processed, user requirements for the future data marketplaces defined and bundled, and information events and training courses offered.
The IDS data architecture can be used as a basis for new AI applications, for example in intelligent production. Intelligent data networking in production processes involving suppliers, equipment manufacturers and specialized service providers then enables new analysis and forecasting services, for example for optimizing maintenance intervals or in quality management.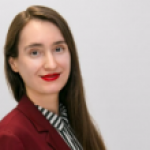 Alexandra Garatzogianni is a research assistant and responsible for the IDSA competence centre in Lower Saxony at the Joint Lab of L3S and TIB.