Opportunities for innovative business ideas in Lower Saxony
For one year now, anyone with an innovative, digital or knowledge-oriented start-up idea in Lower Saxony can apply for a scholarship. The start-up grant from the Lower Saxony Ministry of Economics is aimed at both individual founders and start-up teams of up to three people and provides them with the financial freedom to realise their idea of self-employment for eight months. The monthly grant amounts to 2,000 euros, for students 1,000 euros.
A business idea in the innovative field must be pursued intensively. Therefore, founders cannot usually have a full-time job and usually have no regular income. The scholarship enables them to devote themselves fully to the development and realisation of their business idea.
L3S is an accompanying facility
In order for the desired independence to be as successful as possible, professional and individual support is a decisive factor. The potential founders are introduced to the existing start-up networks and individually coached. For this reason, the start-up grant is only awarded if an institution such as a start-up centre, university or other accelerator provides intensive support for the start-up project.
Together with the start-up service starting business and the Mechatronics Centre Hannover, the L3S is accredited as an accompanying institution for the start-up grant. Students, research assistants and alumni of Leibniz Universität Hannover with an innovative digital business idea can get advice even before applying.
The application for the start-up grant is submitted to the NBank. The employees are also available for advice and questions concerning the funding procedure. All important information as well as the contact details of the contact persons can be found on the NBank's support programme page.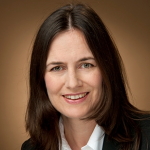 Susanne Oetzmann is research assistant for knowledge transfer and start-up support at L3S.