Infections at dental implants
BacData – Fighting Bacteria with Data
Implants should not cause any problems after surgery. But over time, bacteria settle on their surfaces, forming a complex network that can trigger infections. Antibiotics have a hard time fighting these biofilms.
In the BacData project, researchers from the L3S and the Hannover Medical School (MHH) are working on analysing biofilms more precisely. "With the general rise of antibiotic resistance, research is essential and the need of the hour. Hence, we hope to make some headway here using an interdisciplinary approach," says Dr Sowmya Sundaram. The computer scientist examines data that MHH scientists have previously obtained from genetic information. Using the data, the researchers want to find out what causes the infections and how to predict, prevent or cure them.
Sundaram has been working mainly on dental implants in recent months. Dental implants, which are made of metallic components – usually titanium – develop infections over time due to gradual wear and tear and the habits of the person involved. Sundaram first analysed data from the MHH to find out which gene activity correlates with biofilm formation on dental implants. The difficulty was that there are very few patients, but each patient has extensive genetic information. "This means, we cannot statistically analyse the data with confidence. Hence, we utilised several sophisticated statistical tools to identify important genetic inputs. We have now presented the results to the scientists at MHH, who will do sanity checks and interpret our results," says Sundaram.
The exciting thing is that the methods used to identify relevant correlations can always be applied when only limited data is available, as is the case with some rare diseases. "We will continue developing useful results our colleagues at MHH can use as well as, independently, use these applications as a means to develop generic and useful computational tools that can serve the society in the future," says Sundaram.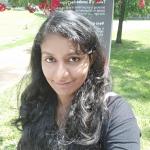 Sowmya Sundaram is Postdoc at L3S and does research in the area of Deep Learning in medicine.